We provide a variety of services to support teachers in teaching and research. Welcome to consult and use.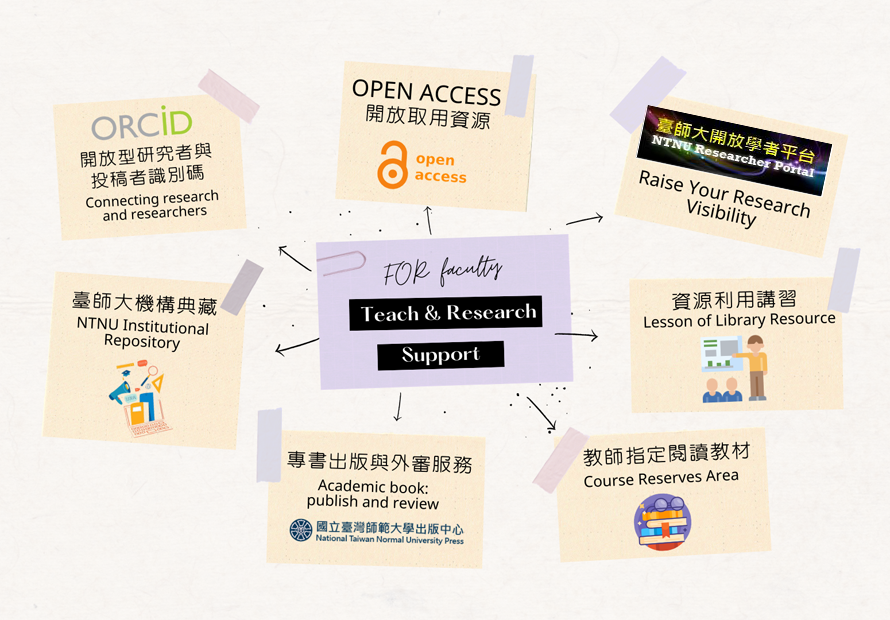 ORCiD Service
ORCID, which stands for Open Researcher and Contributor ID, is a free, unique, persistent identifier (PID) for individuals to use as they engage in research, scholarship, and innovation activities.
NTNU Institutional Repository
臺師大機構典藏系統以數位方式保存全文資料,典藏內容包含本校研究產出,例如期刊及會議論文、研究報告、教材、專題研究等,並建立網路平臺提供檢索與使用。歡迎老師提供您的著作予本系統典藏。
Course Reserves Area
The library set a course reserved book area to display the resources in supporting the curriculum and the learning needs. The library patron can check on the Library Catalog to find the resources listed as course reserved book. If you want to specify a book that is not in the library collection, you can fill out the reserved designated material recommendation list.
Lesson of Library Resource
Students and Faculty are welcomed to sign up for our library instruction classes (a minimum of 5 people), including general library orientations, library services, and the use of reference resources, theses, periodicals and electronic resources.
Raise Your Research Visibility
The Pure Portal provides a visually appealing, easy-to-use online solution for researcher profiling and research networking capabilities, making it easier for your researchers' unique strengths to be discovered.
Open Access
Open access (OA) is a set of principles and a range of practices through which research outputs are distributed online, free of access charges or other barriers. In order to support the researchers of NTNU to submit articles to Open Access journals, we actively strive for the OA service plan and assists the researchers to submit articles with a discount on the Article Processing Charges (APCs).
Academic book: publish and review
出版中心為教師自行出版專書提供代送外審服務,審查結果,可作為教師升等、專書獎助、專書計點等證明之用。審查結果為甲等以上,研發處會補助教師先行支付之審查費用。